French and Francophone films
The Ritz Landmark Theatres in Philadelphia

Directions and show times
The Ritz Landmark Theatres frequently offer French cinema right in the heart of Philadelphia.

Level 5 by Chris Marker (1997)
February 23, 2012 at 7:00 pm.
---
French and Francophone Theatre   
Samuel Beckett
January 17 – March 10, 2013
March 14 – April 28, 2013
April 9 – 13, 2013
April 9 – 28, 2013
---
Cultural Festivals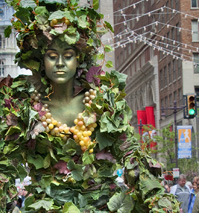 April 27: PIFA Street Fair
Broad Street in Center City, Philadelphia will transform into a phantasmagorical Parisian carnival for PIFA's street fair, featuring a Ferris wheel, street performers and food. The festival is free to attend throughout the day, until it ends at 7pm. It will be the grande finale of the Philadelphia International Festival of the Arts (PIFA), a city wide celebration of Philly's entire cultural community.
---
Art and Museum Exhibits
October 30, 2012 – January 21, 2013
---
On Campus
Peace Corps Lunch & Learn
  Le lundi, à partir du 28 janvier 2013
  12h30 -  13h20
  Centre estudiantin / Student Center
  Cherchez la table aux drapeaux francophones !
À partir du 28 janvier, les étudiants de Rutgers-Camden seront invités à déjeuner avec leur(s) professeur(s) à midi afin de profiter de ce moment de détente en français. Tous les lundis, nous nous réunirons de 12h30 à 13h20 dans le Centre estudiantin (Student Center) pour partager une discussion libre au-dessus des assiettes. Tous sauront reconnaître notre table décorée de multiples drapeaux des pays du monde francophone. À la convivialité de la table s'ajouteront de temps en temps quelques friandises et autres délices du monde francophone. Ne ratez donc pas cette occasion de découvrir l'art de la table tout en pratiquant votre français à l'oral !
French Table
Starting January 28, 2013, Rutgers-Camden students are invited to lunch with their professor(s) in order to take advantage of this time for rest and relaxation in French. Every Monday, we will meet from 12:30 pm to 1:20 pm in the Student Center for an open discussion over a pleasant meal. You will easily recognize our table decorated with the flags of Francophone countries nations from throughout the world.  
From time to time, French baked goods and other delicacies from the French-speaking world will add to the warmth of this weekly event. You won't want to miss this opportunity to discover l'art de la table while practicing your spoken French!