Ana Laguna, Ph.D.
Associate Professor, Director of Graduate Studies (MAT)
Executive Member for the Cervantes Society of America, Resident Director of the Rutgers Summer Study Abroad Program in Salamanca
Ph.D., Purdue University

Early Modern Literature and Culture, Visual Studies, Race Theory, and Material Culture
Professor Laguna holds a Ph.D in Comparative Literature from Purdue University. Her research focuses on the literature and culture of sixteenth-and seventeenth-century Spain, exploring how literature reflects and shapes prominent artistic and socio-political anxieties. Her work has been awarded fellowships by the National Endowment for the Humanities, the Program for Cultural Cooperation Between Ministry of Culture of Spain and United States Universities, and the Rutgers Research Council. In 2008, she was the recipient of Rutgers Chancellor Award for Distinguished Teaching.
Selected Publications:
Books
Cervantes and the Pictorial Imagination. Lewisburg, PA: Bucknell University Press, 2009.
Recent Articles
"Life is a Dream and the Fractures of Reason." MLN. Forthcoming 2014

"On Quixote, Francoist Mythologies, and Generation Q." Anuario de estudios cervantinos. Forthcoming Jan. 2014.
"Antonio Pérez and the Art of Influence." Signs of Power in Habsburg Spain and the New World. Ed. Jason McCloskey and Ignacio López.  Lewisburg, PA: Bucknell University Press 2013. 133-52.
De Armas, Frederick, Ovid in the Age of Cervantes. Toronto: U of Toronto P, 2010.  Review. Revista de Estudios Hispánicos  46.3 (2012): 571-574
Dopico Black, Georgina y Francisco Layna Ranz, USA Cervantes. 39 Cervantistas en Estados Unidos. Madrid, Consejo Superior de Investigaciones Científicas, 2009. Review. 2012. http://www.academiaeditorial.com/web/39-cervantistas-en-estados-unidos/
"The Unlikely Friendship of Cervantes and David Smith" exhib. cat. New York: Craig F. Starr Gallery, 2010.
"Cervantes en Hollywood. El curioso impertinente en Kissing a Fool (1998)".  Don Quijote, cosmopolita: Nuevos estudios sobre la recepción internacional de la novela cervantina Colección Humanidades. Toledo: Publicaciones de la Universidad de Castilla La Mancha, 2010. 369-82.
"Entre el museo y el teatro:  oportunidades didácticas de la entrada real de Ana de Austria en Madrid" (Between the Museum and the Theater:  Didactic Opportunities at Queen Ana's Entry in Madrid). Bulletin de Comediantes. 61.2 (2009): 51-69.
"Through the Bonfires of Petrarchism: Flemish Aesthetics in Cervantes's El coloquio de los perros."  Hispanic Review 75. 1 (2007): 23-45.
"An Exemplar Case of Jealousy. Cervantes's Jealous Old Man from Extremadura: Fall and Rise of Virtue as an Operative Principle."  Hispanófila 143 (2005): 1-19.
"Ekphrasis in the Prologue to Don Quijote I:  Urganda 'the Unknowable' and the Mirrors of Fiction."  Ekphrasis in the Age of Cervantes. Ed. Frederick de Armas. Lewisburg, PA: Bucknell University Press, 2005. 135-57.
"Carmen Martín Gaite.  Ecos postmodernos." Romance Languages Annual 9 (1997): 505-07.
---
Próspero N. García, Ph.D.
Assistant Professor Próspero N. García holds a PhD in Hispanic Linguistics from the University of Massachusetts, Amherst, with a focus on Applied Linguistics and Language Program Direction and Administration. His research interests lie in the fields of Spanish Second Language Acquisition, Sociocultural Theory & Teaching, and Second Language Evaluation and assessment. His most recent work explores the role of verbalizing in the internalization of grammatical categories through the use of Concept-based Instruction in the Second Language Classroom. Additionally, Dr. Garcia has been nominated on two occasions to the Distinguished Teaching Award at the University of Massachusetts, Amherst, and his pedagogical materials have been published in several textbooks. 
Selected Publications:
Books
Blanco, J., C. C. Tocaimaza-Hatch & P. N. García (2013). Enlaces. Vista Higher Learning. Boston, MA. ISBN: 978-1-60576-092-6. [Contributing writer]
Courtad, J, K. Everly, & M. Gaspar (2012) Intrigas: Advanced Spanish Through Literature and Film. Vista Higher Learning. Boston, MA. ISBN 13 978-1-617-671036. [Contributing writer]
Amores, M., J. L. Suárez García, & M. Morris (2012) Experience Spanish. McGraw Hill. New York, NY. ISBN 978-0-07-353439-8. [Member of the Editorial Board of Advisors]
Blanco, J., C. C. Tocaimaza-Hatch & P. N. García (2011). Sueña, Second Edition. Vista Higher Learning. Boston, MA. ISBN: 978-1-60576-250-0. [Contributing writer]
Blanco, J., C. C. Tocaimaza-Hatch & P. N. García (2010). Imagina, Second Edition. Vista Higher Learning. Boston, MA. ISBN: 978-1-60576-092-6. [Contributing writer]
Recent Articles
García, P. N. (2011). "Dynamic Assessment and the Spanish Classroom: Implications for Teaching". Actas del IX Congreso Internacional de Lingüística General. Valladolid, Spain. June 21st -23rd, 2010. ISBN: 987-84-693-6786-5.
---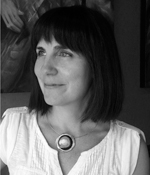 Carla Giaudrone, Ph.D.  Associate Professor
Director of Latin American Studies
Associate Professor,
Ph.D., New York University
Fin-de-siècle Spanish American literatures, Southern Cone literature and culture, Latin American Modernismo, Post-colonial theory, Feminist Theory, and Gender Studies 
Associate Professor Carla Giaudrone holds a PhD in Hispanic literature from New York University, with a specialization in fin-de-siècle Spanish American literatures and Southern Cone literature and culture. Additional research areas include post-colonial theory, Latin American Modernismo, feminist theory, and gender studies. Currently, she is working on a book-length study that analyzes how the relationship between image and text impacts on cultural identity issues through the examination of commemorative illustrated books of the centennial celebrations of independence in Argentina, Paraguay, and Uruguay.
Books
La degeneración del Novecientos. Modernistmo y modelos estético-sexuales de la cultura. Montevideo: Editorial Trilce, 2005. Honorary mention. Premio Anual de Literatura. Ministerio de Educación Cultura (Uruguayan government's Annual Literary Awards ceremony recognizing books published during 2005 and 2006).
El pudor y la cachondez de Julio Herrera y Reissig. Carla Giaudrone and Nilo Berriel edition, introduction, and notes. Montevideo: Arca, 1992.
Edited Dossier
Narrativas del Centenario y Bicentenario de la independencia en Latinoamérica. Carla Giaudrone and Shelley Garrigan (eds.). Iberoamericana. América Latina, Portugal, España 39 (2010): Iberoamericana-Vervuert. 
Recent Articles
 "Identidad y cultura visual del Centenario: imágenes del gaucho en publicaciones conmemorativas de 1910 en Argentina". Construir bicentenarios latinoamericanos en la era de la globalización. Margarita Gutman, Rita Molinos (eds). Buenos Aires: Infinito, 2012, 423-438.
 "Territorial Imagination and Visual Culture in the Centenary: The Construction of the National Landscape in Uruguay's Centenary Book (1926)." Journal of Latin American Cultural Studies 20:4 (2011): 355-375. 
"'La esbeltez de los barcos que están casi en el aire': El cenáculo y el barco como heterotopías del 900". "Los raros uruguayos: nuevas miradas". Valentina Litvan and Javier Uriarte (eds.). Cahiers de LI.RI.CO 5 (Université Paris 8) (2010): 189-204.
"Representaciones de lo vernáculo en el primer Centenario de la independencia del Paraguay". Iberoamericana 39 (2010): 177-195.
"El gaucho en el ámbito iconográfico del Centenario uruguayo (1925-1930)". Revista Hispánica Moderna 61.2 (2008): 149-165.
"Nuevos sujetos en el espacio urbano de la escritura modernista rioplatense". Hispania 91.2 (2008): 310-319.
"Deseo y modernización: El modernismo canónico esteticista en el fin de siglo uruguayo". Uruguay: imaginarios culturales. De los orígenes a la modernidad. Eds. Hugo Achugar, Mabel Moraña. Montevideo: Trilce-Instituto Internacional de Literatura Iberoamericana, 2000, 259-292.
---
Alejandra Josiowicz, Ph.D.
Assistant Professor
Ph.D., Princeton University
Childhood Studies, Children's literature in Latin America, The Caribbean, Argentina, and Brazil. 
Assistant Professor Alejandra J. Josiowicz holds a Ph.D. in Spanish and Portuguese Languages and Cultures from Princeton University. She specializes in childhood studies and children's literature in Latin America, with a focus on the Caribbean, Argentina and Brazil. Her teaching and research interests also include gender and sexuality studies, intellectual history and trans-American studies. She is currently working on a book manuscript that analyzes the political definitions, literary and cultural uses of childhood in late 19th and 20th Century Latin America, as a contentious site in which writers play out their anxieties about citizenship, gender and race. She has received fellowships and grants from Princeton University, Cornell University, and the Argentinean Agency for Scientific Research.
Recent Articles
"Infantia, Pop Art and Autobiography in Betrayed by Rita Hayworth, by Manuel Puig" Hispamérica, Latin American Studies Center, University of Maryland. Vol. 41, No. 122, 2012, pp. 11-18. 
"José Martí, Childhood and Mourning" Boletim de Pesquisa do Núcleo de Estudos Literarios y Culturais (NELIC), Universidade Federal de Santa Catarina, Florianópolis, V. 11 n. 16. P. 93-110. 2011.
"The Ethical Imagination. An Analysis of Sylvia Molloy's Varia Imaginación" Mora, Universidad de Buenos Aires, Dic. 2010, Vol. 16 no. 2.   
"Writing, Intimacy and Gender: Katherine Mansfield & Clarice Lispector" Cadernos pagu. Universidade Estadual de Campinhas (34), janeiro –junho de 2010: 301 -329.
"Towards the Internationalization of Latin American Criticism. Ángel Rama Rereads José Martí with Rimbaud" The Colorado Review of Hispanic Studies. Vol. 6, Fall 2008. pp. 25-38.
"María Elena Walsh" and "María Rosa Oliver" in Dictionnaire des Créatrices. Edited Collection. Paris: Editions des Femmes-Antoinette Fouque, Mireille Calle-Gruber, Béatrice Didier. Forthcoming in November 2013.