Associate Professor of Spanish

Ph.D. in Bilingualism and Second Language Acquisition @ Rutgers University, New Brunswick
sp1019@camden.rutgers.edu / @SilvPC
http://sperezco.weebly.com
405-407 Cooper Street (Office #302)
Camden, NJ
(856) 225-6126
Dr. Perez-Cortes holds a PhD in Bilingualism and Second Language Acquisition from Rutgers University, New Brunswick. Her research interests lie in the areas of bilingual language acquisition and education in language contact situations. Dr. Perez-Cortes is particularly interested in analyzing the grammatical development of heritage populations (both children and adults) with the objective of exploring how syntax and the lexicon are accessed and represented in the bilingual mind. Her most recent investigations examine the acquisition and restructuring of interface properties including tense, mood and determiner use by early and late Spanish/English bilinguals.
Research interests
Heritage and Second Language Acquisition
Spanish-English bilinguals
Child and adult language development
Language attrition
Language variation
Bilingual education
English Language Learners (ELLs)
Latinos in the US
Recent Refereed Publications
Perez-Cortes, S. (2023). Obviating the mood, but mostly under control: Spanish heritage speakers' acquisition of the binding constraints of desiderative complements. Language Acquisition. Online first, https://doi.org/10.1080/10489223.2023.2231993.
Choi, Y, Uthirasamya, N., Córdoba, D., Morrow, L. Perez-Cortes, S., Ramachandran, U., Pai, S., Lima, D., Shelton, P. & Jimenez, M. (2023). Feasibility and Acceptability of a Cross-Sector Health-Education Online Family Literacy Program in an Under-Resourced Community during the COVID-19 Pandemic. Journal of Developmental & Behavioral Pediatrics, 44(2), 104–110. https://doi.org/10.1097/dbp.0000000000001155.
Perez-Cortes, S., Giancaspro, D. (2022). (In)frequently asked questions: On types of frequency and their role in heritage language variability. Frontiers in Psychology (Special issue "The next phase in HL studies: Methodological considerations and advancements"). https://doi.org/10.3389/fpsyg.2022.1002978
Giancaspro, D., Perez-Cortes, S., Higdon, J. (2022). (Ir)regular mood swings: Lexical variability in heritage speakers' oral production of subjunctive morphology. Language Learning 72(2), 456–496. https://doi.org/10.1111/lang.12489
Perez-Cortes, S. (2022). Lexical frequency and morphological regularity as sources of heritage speaker variability in the acquisition of mood. Second Language Research 38(1) 149–171. https://doi.org/10.1177/0267658320918620
Perez-Cortes, S. (2022). On complexity and divergence in heritage language grammars: The case of double mood selection in reported speech contexts. Studies in Second Language Acquisition 44(3), 818-842. https://doi.org/10.1017/S0272263121000589
Perez-Cortes, S. (2021). Re-examining the role of type of mood selection in Spanish HSs' subjunctive production. Linguistic Approaches to Bilingualism. Online first (7/16/2021). https://doi.org/10.1075/lab.20111.per
Austin J., Sánchez, L., Perez-Cortes, S. & Giancaspro, D. (2021). The development of person and number agreement in child heritage speakers of Spanish learning English as a second language. In Martohardjono, G. and S. Flynn (Eds.) Language in Development: A cross-linguistic perspective (103–129). MIT Press. https://doi.org/10.7551/mitpress/11865.003.0009

Perez-Cortes, S., Putnam, M. T., & Sánchez, L. (2019). Differential Access: Asymmetries in Accessing Features and Building Representations in Heritage Language Grammars. Languages, 4(4), 81.
Putnam, M., Perez-Cortes, S. & Sánchez, L. (2019). Feature Reassembly Hypothesis in Language Attrition Contexts. In Schmid, M., & Kopke, B. (Eds.), Oxford Handbook of Language Attrition [Chapter 3].
Austin, J., Sánchez, L., Perez-Cortes, S. (2017) Null subjects in the early acquisition of English by Spanish Heritage bilingual children. In Perpiñán, S. (Ed.), Romance Languages and Linguistic Theory 11. Selected papers from the 44th Linguistic Symposium on Romance Languages (LSRL), University of West Ontario (p. 209-227). Amsterdam/Philadelphia: John Benjamins.
Syrett, K., Lingwall, A., Perez-Cortes, S., Austin, J., Sanchez, L., Baker, H., Germak, C., & Arias-Amaya, A. (2017). How Spanish-English bilingual children approach entailment-based scalar implicatures. Glossa Special Issue: Acquisition of Quantification.
Syrett, K., Austin, J., Sánchez, L., Germak, C., Lingwall, A., Perez-Cortes, S., Arias-Amaya, A., & Baker, H. (2017). The influence of conversational context and the developing lexicon on the calculation of scalar implicatures: Insights from Spanish-English bilingual children, Linguistic Approaches to Bilingualism, 6(6), 1-25.

Perez-Cortes, S. (2012). The Interpretation of Present Progressive aspectual features by L2 Spanish Learners and Heritage Language Speakers, Arizona Working Papers in SLA teaching, 19, 36-55.

Perez Cortes, S. (2011). The Acquisition of idiomatic expressions through a Cognitive Linguistics-based instruction: a pilot study, Actas del IX Congreso Internacional de Lingüística General, Universidad de Valladolid, 21-23 Junio, 2010.
Selected grants and awards
2021-2026: NIH AHRQ Health Services Research Demonstration and Dissemination Grants (R18 HS028574-01) (Co-PI) "Refining and evaluating an online Family Wellness Program (FWP) for Latino households" (Member of the clinical trial and research team led by Dr. Manuel Jiménez from RBSH-Robert Wood Johnson Medical School (Main PI). [granted, $1,986,472].
2021: Chancellor Award for Teaching Excellence. Rutgers University, Camden. Recognition for exemplary teaching at the campus level.
2020-2025: NIH NICHD Eunice Kennedy Schriver National Institute of child health and human development (Project #1R01HD099125-01A1) (Co-PI)"Addressing Disparities in Language and Social-emotional Skill Acquisition through Literacy Promotion in Primary Care" (Member of the clinical trial team led by Dr. Manuel Jiménez from RBSH-Robert Wood Johnson Medical School (Main PI) [$3,078,767 including indirect costs]
2020: Global Health Seed Grants (Rutgers University). "A Cross-sector Partnership to Promote Equity in School Readiness". Co-PI alongside Dr. Manuel Jiménez, Dr. Leslie Morrow, Dr. Usha Ramachandran and Dr. Shilpa Pai [$10,000].
2018: Leader in Higher Education. NJBIZ Magazine. Recognition as a valuable member of higher education in NJ.
2018: Chancellor award for Community-Engaged Scholarship. Rutgers University, Camden. Recognition for the work done in the local Camden community using expertise in language acquisition.
Courses Offered
Intermediate Spanish I (940:121)
Spanish conversation and composition I (940:203)
Spanish conversation and composition II (940:204)
From Reguetón to Flamenco: Introduction to Spanish dialects (940:250/492)
Speaking Latino: Spanish in the US (940:292)
Being Bilingual: Spanish and English contrasts (940:370/522)
Bilingualism in the US (940:491/540)
The Scientific method (940:391/541)
Spanish Second language acquisition (940:492/515)
Multilingualism and Linguistic minorities in the US (cross-listed with 615:387 at the English and communication department)
Current Research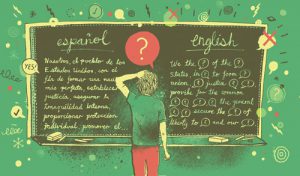 Language Development in Child Bilinguals
The number of NJ residents that speak a language other than English at home has grown exponentially in the past 20 years. In Camden, for example, the percentage reaches a stunning 44%, where Spanish is undoubtedly the most widely spoken (with almost a 40%). Despite the strong presence of multilingualism in the state and throughout the country, there is a lack of research studies focused on young Spanish/English bilinguals. How do both languages interact during the process of language acquisition? Up to what extent does the lack of support and input in the heritage language affect their linguistic development?
In my research, I investigate these and another issues related to child language development in heritage populations.
Acquisition of Mood by Heritage Speakers of Spanish
In this large-scale project I examine Spanish heritage speakers and second language learners' acquisition of subjunctive mood using different types of experimental tasks: a truth-value judgment, two production tasks (written and oral), and an acceptability judgment task. Results show that accuracy is largely dependent on the interplay between participants' level of proficiency (how high is their mastery of Spanish?), age of onset of bilingualism (when were they first exposed to both languages?) and frequency of Spanish use (how often do they use the language?).
On the Web

Find more about Dr. Perez-Cortes' work at: Researchgate and Academia.