Scholarships and Awards
The Michelle Muncy French Fund
The award was founded in 1992 by Dr. Robert B. Sharp, a former student of Dr. Michelle Muncy. After January 2011, additional funds were donated, including a bequest from Dr. Sharp, donations from Dr. Eladio Cortes, and contributions from former students of Dr. Muncy.
The expansion of the Michele Muncy Academic Excellence Fund has opened doors of educational opportunity to outstanding students majoring in French. The fund and Endowed Scholarship have provided and continues to provide help for several bright and top performing students based on academic merit and demonstrated financial need.
The Michelle Muncy French Scholarship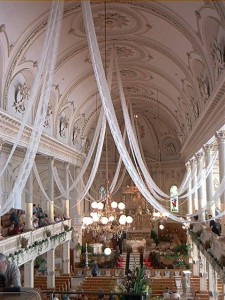 In honor of Dr. Michelle Muncy, this merit-based scholarship provides approximately $1,000 in tuition for the current or following semester to students with outstanding academic potential in a foreign language. The Michelle Muncy French Scholarship aims to support these especially promising students in their pursuit of advanced studies in French. Recipients are chosen each year based on scholarly achievement as well as contributions to the cultural richness of the French Program at Rutgers-Camden. They demonstrate superior dedication to their studies and a strong aptitude for leadership within the program.
All French majors and minors are considered for the Michelle Muncy French Scholarship. Special consideration is also given to those planning to study abroad in French-speaking countries.
The Michelle Muncy Award
In honor of Michelle Muncy, this award is granted each year to a graduating student who has shown passion for the study of French through a strong commitment to academic excellence. It recognizes students who make significant progress in the foreign language during their academic tenure at Rutgers-Camden. All French majors and minors are considered for the Michelle Muncy French Award. It is open to any student having completed Intermediate French II (50:420:132) before graduation.
This scholarship has supported students with sums ranging from $250 to $400 since its creation in 2011.
The French Prize
This honor is granted to a continuing student who has shown passion for the study of French through commitment to academic achievement. It recognizes students who show exceptional accomplishment or make significant progress in French during the academic year at Rutgers-Camden. All students of French may be considered for the French Prize, including those enrolled in Elementary and Intermediate language courses.
The Professional Development Award in French

The purpose of this award is to encourage students to pursue professional development in an area related to French language learning. To apply, students must compose a letter of motivation in French expressing the reasons why they have chosen this career path. This award is offered on an occasional basis, based on funding availability.
Honors Program for French Majors
High-achieving students may qualify for graduating with honors in French by fulfilling the standard requirements for the French major as well as the following additional requirements:
Write a senior honors thesis of twenty-five to thirty-five pages. The topic of the thesis is developed with an individual faculty member and written as an independent study project during two terms of the honors program, while the student is enrolled in course 50:420:396, 495, or 496, depending upon the year and term during which the student is undertaking the study.
Maintain a 3.5 grade-point average in the French major and a 3.0 cumulative grade-point average in the overall undergraduate program.
Students should inform the department of their intention to participate in the departmental honors program during the spring of their junior year. In recognition of satisfactory completion of the honors program, the registrar will note on the student's permanent academic record "distinction in French."
The Honors College at Rutgers-Camden
The honors program for French majors is independent from participation in the Honors College. For those already enrolled in the Honors College, the French honors thesis may be serve as one of your two Experience Projects. In-coming students may be interested in both opportunities. To find more information regarding the Honors College, please click here.
Phi Beta Kappa Society
For over two and a quarter centuries, the national Phi Beta Kappa Society has embraced the principles of freedom of inquiry and liberty of thought and expression. Laptops have replaced quill pens, but these ideas still lay the foundations of personal freedom, scientific inquiry, liberty of conscience, and creative endeavor.
Phi Beta Kappa celebrates and advocates excellence in the liberal arts and sciences. Its campus chapters invite for induction the most outstanding arts and sciences students at America's leading colleges and universities. The Society sponsors activities to advance these studies — the humanities, the social sciences, and the natural sciences — in higher education and in society at large.
Only about 10 percent of the nation's institutions of higher learning have Phi Beta Kappa chapters.
Only about 10 percent of the arts and sciences graduates at these institutions are selected for Phi Beta Kappa membership.
In the effort to support intellectual development, creative thinking and global vision, each member inducted into Phi Beta Kappa at Rutgers-Camden needs to complete one year of a foreign language, achieving a minimum level of Intermediate (II).
If you're a strong and committed student, then be sure to fulfill this language obligation for Phi Beta Kappa at Rutgers-Camden so that you can take advantage of life-long membership in this prestigious society.