Why Study Abroad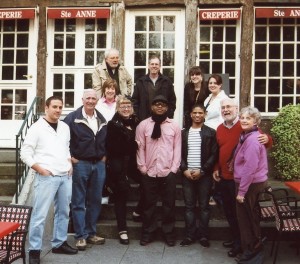 One of the most rewarding experiences of learning French is traveling to Francophone countries to interact with native speakers and experience their cultures firsthand. The French program at Rutgers-Camden urges study abroad as a vital part of language learning and intercultural development.
Our program provides access to study abroad in France for non-majors as well as majors. These opportunities include Rutgers-sponsored summer programs in Paris and academic year programs.
Rutgers Academic-Year Programs
One of the easiest ways for our students to study in a Francophone country is to participate in the Rutgers Study Abroad Program. The programs are more reasonably priced than many others, and credits transfer seamlessly to Rutgers-Camden. Programs include:
L'Université François Rabelais: Tours, France
Picturesque city one hour by train from Paris
Full-year program taught in French by French professors
Fall semester orientation in Paris from the end of August until October
Spring semester also available
Credits are transferred directly onto Rutgers record
Rutgers financial aid package
Sciences-Po Dijon: European Studies campus with focus on Eastern Europe
Capital of the Burgundy region
Top-tier university with strengths in public policy, history, management, sociology, and law
Challenging intellectual experience
Demanding coursework and a stimulating environment
Russian, Czech, Polish, Hungarian, and Romanian language classes also available
Euroscholars: Belgium, Switzerland, or additional choices
Innovative program at one of 12 renowned European research universities
Opportunity to conduct original research, including a paper or an article
All students take a Language & Culture Course and Methods & Literature Review
Many projects require no previous language experience
Offers basic knowledge of the language and culture in the host country
Options include University of Leuven, University of Geneva, or University of Zurich
Summer Study Abroad
Rutgers-Camden Learning Abroad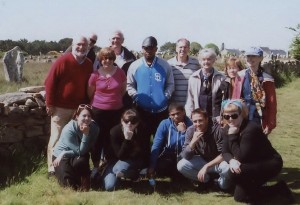 International Studies at Rutgers in Camden is a unique program, an alternative or supplement to the traditional year or semester abroad that allows for flexible schedules and a broad range of destinations. Our emphasis is on integrating brief periods of travel with regularly-offered courses in our university curriculum in Camden.
Each year, International Studies sponsors between five and ten courses. In the French program, Prof. Norman Ellman regularly travels with students to Paris, Brittany and Tours, in France.
Rutgers Art History in Paris summer program
Art History in Paris is a six-week program with classes led by faculty from the Rutgers Art History Department. The first half of the course spans the art and history of Paris from Antiquity to the Rococo. The second half focuses on Neoclassicism through the 20th century. Classes will be conducted through walking tours in the streets, before and within monuments, and in museums.
Taught entirely on-site in Paris
Teaches the history and art of Paris from the Ancient Romans to the present
Includes the study of monuments, architecture, and the urban landscape
Behind-the-scenes tours of the Louvre and other Parisian museums
Day trips to Fontainebleau, Versailles, and Giverny
Weekend trip to four of the Loire Valley's Renaissance châteaux and gardens
Rutgers Art History Scholarships: Available to all Rutgers students attending the summer Art History in Paris or Art History in Rome program. Scholarships of approximately $2000 each will be awarded with priority given to art history majors and/or minors. There is no application necessary for this award.
Career-Oriented Programs and Internships
Some students may be interested in more career-oriented study and internship abroad programs, like these:
Scholarship Opportunities
All Rutgers Study Abroad Programs
Rutgers Study Abroad Global Reach Scholarship: Available to all Rutgers students participating in a Rutgers Study Abroad program during the fall/spring/academic year. Award amounts vary by year but are usually in the range of $1000 to $5000 each. Applications will be released to students after their acceptance by Rutgers Study Abroad.
Rutgers Study Abroad Diversity Scholarship: Available to Rutgers students participating in a Rutgers Study Abroad program during fall/spring/academic year. These $5,000 scholarships are intended to support the diversification of students who study abroad. Diversity is defined broadly to include ethnic and socioeconomic diversity, students with disabilities, LGBTQ students, and students with a history of overcoming adversity based upon group identification or affiliation. Applications will be released to students after their acceptance by Rutgers Study Abroad. Scholarship recipients are required to develop a follow up service project to be completed upon their return. The project should focus on ways to promote diversity in international education on campus or in the community. A project proposal must be submitted with the application.
Specific Programs and outside funding

Benjamin A. Gilman Study Abroad Scholarships: Available to all study abroad students who receive a Pell Grant. Visit the Gilman site for more.
David L. Boren Undergraduate Scholarship for Study Abroad: Available to all study abroad students studying abroad in areas of the world that are critical to U.S. interests and underrepresented in study abroad. Visit the Boren Scholarship site.
EuroScholars Diversity Scholarship: To demonstrate EuroLearn's commitment to increasing the ethnic diversity of our participants, they are pleased to offer a new Diversity Scholarship program for students participating on semester/year-long program through EuroLearn, an educational program of GlobaLinks Learning Abroad. The scholarships of $1,500 will be awarded to eligible students of ethnic minority who are willing to share their experience with family, friends, and student colleagues upon their return. Vsit the EuroLearn site.
Fund for Education Abroad: Available to all study abroad students. Often, students must apply more than a year in advance. Visit the Fund for Education Abroad website (https://www.fundforeducationabroad.org/applicants/).
GO! Study Abroad Scholarship! Available to all study abroad students. Visit the Go! Overseas site.
Teaching Assistant Program in France

In addition to the study abroad programs listed above, recent alumni are invited to apply to become English language teaching assistants in France after graduation. Read more about the Assistant d'Anglais Program.
If you have questions after reading the information sheet, contact Prof. James Boucher (james.boucher@rutgers.edu) or Prof. Jean-Louis Hippolyte (hippolyt@rutgers.edu).
Teach English in France! Are you ready to expand your cultural horizons and share your language and culture with French students? The Teaching Assistant Program in France offers you the opportunity to work in France for seven months, teaching English to French students of all ages. Each year, over 1,100 American citizens and permanent residents teach in public schools across all regions of metropolitan France and in the overseas departments of French Guiana, Guadeloupe, Martinique and Réunion.
SWAP Program in Canada
If you're an American who has always dreamed of seeing what life is like in Canada, SWAP provides an opportunity to find out.
This program allows American students and recent graduates the ability to live and work in Canada for up to 12 months. SWAP is partnered with International Experience Canada to help you navigate your Canadian working holiday experience. From the application process to your arrival in Canada, SWAP and our partners in the US will provide you with ongoing support and assistance to ensure your working holiday experience is a success. To register for the Work in Canada program please contact any one of the organizations listed here.