The German Program at Rutgers-Camden offers courses in all levels of German language, culture, film, and literature. Courses taught in English include German Literature in English Translation and German Cinema. German Program faculty members are also scholars of international rank, carrying out research in a variety of fields.
German is one of the most important languages for business, international relations, and accessing a rich cultural heritage. It is the language of Germany, Austria, much of Switzerland, and other parts of central Europe. With 121 million speakers, German plays a vital social and economic role in the unified Europe. It is also the ancestral language of more Americans than any other language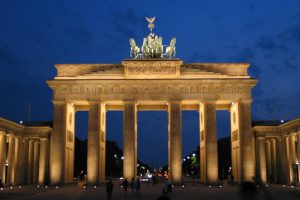 Majoring in German is an excellent preparation for a variety of business careers, for graduate and professional programs, (including law school), for teaching careers at various levels, and for life as an educated and enlightened citizen of the world.
Studying a foreign language, literature, or culture is an enriching experience and an important part of a general education, even for students who stop short of achieving fluency in a new language. Achieving proficiency in a foreign language not only has an immense practical value in the increasingly networked world, it also opens whole new dimensions and vistas in the mind.
Contact
For information about German at Rutgers – Camden, email Professor James Rushing at rushing@camden.rutgers.edu.