---
Why Learn French 
This link pretty much sums it up nicely with seven top reasons. If you're still not convinced, read more…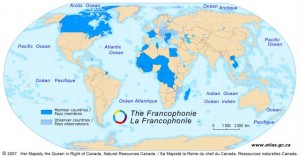 Over 220 million people around the world speak French. According to the U.S. Census Bureau, nearly 1-in-5 people, or 47 million U.S. residents age 5 and older, spoke a language other than English at home at the turn of the 21st century.
The report, Language Use and English-Speaking Ability: 2000, affirmed that 55 percent of the people who spoke a language other than English at home in the U.S. also reported that they spoke English "very well."  After English and Spanish, Chinese was the language most commonly spoken at home (2.0 million speakers), followed by French (1.6 million speakers) and German (1.4 million speakers). Of the 20 non-English languages most frequently spoken at home, the second largest proportional increase was for French Creole speakers (the language group that includes Haitian Creoles), whose numbers more than doubled from 188,000 to 453,000.
In the state of New Jersey, there are approximately 40,000 people who speak French at home, and more than 21,000 who speak French Creole. [Source: http://www.census.gov/]
Useful links about reasons to learn French: 
Which is the best language to learn?
The Most Practical Foreign Language
… 50 More Reasons on Pinterest! 
---
French in the Delaware Valley
The French-American Chamber of Commerce of Philadelphia reports significant French business investment in the Delaware Valley, and underscores the continuing globalization of American companies. In fact, the French-American Chamber of Commerce of Philadelphia has grown since 1989 to become the second largest chapter in the 23-city network. They also rank as the largest of 14 bi-national chambers of commerce in the region.
There is an FACC membership category to suit companies of every size. Business leaders from almost every industry are represented: banking, insurance, pharmaceutical, technology, strategic consulting, accounting, law, manufacturing, media, advertising, design, travel, real estate and education. Their membership also features many small and medium-sized businesses, including fine restaurants, art galleries, gourmet food importers and a local winery.
Members of the FACC include:
FACC Ambassador Members:            Associate Corporate Members:

Arkema Inc.
Ballard Spahr Andrews                             & Ingersoll  Commerce Bank
DLA Piper Rudnick Gray Cary US LLP Ernst & Young LLP              
HSBC Bank USA
KPMG LLP
Morgan, Lewis & Bockius   LLP
Piper Rudnick LLP     PricewaterhouseCoopers LLP
Reed Smith LLP
Rohm and Haas Company
Sanofi-Synthelabo
Sartomer Company
SEI Investments
Sonepar North America
Total American Services
Wolf Block LLP
Wyeth Pharmaceuticals

AFL Prod. & Communications 
Air Products & Chemicals, Inc.      All American Dairy Products, Inc.
All-Clad Metalcrafters LLC
Ansoft Corporation Applied   Psychology & Anthropology
Archer & Greiner, PC
AREVA T&D, Inc.
Artoria Limoges
Assouline & Ting, Inc.
Aventis Pasteur
Beach Lloyd Publishers
Beacon Container Corp.
Binswanger International, Ltd.
Blanchet Management P.C.
Boiron USA
Bower Lewis Thrower
Caesar Rivise Bernstein Cohen       & Pokotilow, Ltd.                Calderwood Gallery
Caviar Assouline
C&D International Dynamix
Cegedim USA, Inc.
Chiral Technologies, Inc.              City Tavern
Delahaye Blue Ribbon
Demarle USA, Inc.
Domaine de Beauregard
Doorways, Ltd.
Duane Morris LLP
Engineered Arresting Systems
Fête
Fox Rothschild LLP
GlaxoSmithKline
Global Exchange Group
Golder Associates
Grosfillex, Inc.
Grubb & Ellis Company
Hood & Co., Inc.  

IMPAX Marketing Group               
Invest in France Agency
Just France
Karr Barth Priv. Client Group, LLC
Klasko, Rulon, Stock                      & Seltzer LLP 
Lacroix at Rittenhouse Hotel  
Lainière de Picardie, Inc.             
Ligne Roset                                  
LinguaCall International, Inc.     
Liquidnoise, Inc.
Loews Philadelphia Hotel           
MEDAL LLP                                  
Merrill Lynch & Co., Inc.               
Metalimphy Precision Alloys, Inc.
The MIGroup                             
Milton J. Moser Associates, Inc.   
Moore Brothers Wine Company
Newman Galleries                       
NOVASEP, Inc.                             
PECO Energy                               
Perrier Signature Restaurants     
Philadelphia Convention                  & Visitors Bureau                 Prudential Fox & Roach
Psyma International Inc.
Radisson Plaza – Warwick Hotel 
Radnor Hotel
RealArts Media
Rhodia
Right Management Consultants  Sandia Imaging Systems
Sheraton Society Hill
Sovereign Bank
Steel, Rudnick & Ruben
Sylvester & Keating, Inc.
Telelingua Translations               
TIMAC USA
Town Place Travel
Twenty21
Yves Rocher                   
Nonprofit Members:

Alliance Française
Alsace/USA, Alsace Development Agency
Chestnut Hill College
Drexel University
Greater Phila. Chamber of Commerce
Greater Phila. Tourism & Marketing Corp.

International House
Pennsylvania Academy of the Fine Arts
Phila. Museum of Art/Rodin Museum
Phila. Regional Port Authority
Philadelphie Accueil
World Affairs Council
[Source:
http://www.faccphila.org/
]
Useful links about French in the Delaware Valley:
Rutgers, The State University of New Jersey French Resource Center
The A.A.T.F. (American Association of Teachers of French) Chapter of New Jersey 
New Jersey Needs French: A.A.T.F. French Advocacy Fact Pack
Museum without Walls: Philadelphia's French Connection
Yannick Nézet Séguin, chef d'orchestre at the Philadelphia Orchestra
30 Top French Field Trip Ideas in the Delaware Valley on Pinterest
---
French in America

What do Warren Buffet, Emeril Lagasse, Eva Larue, Madonna, Tony Parker, and Paul Revere all have in common? They all have French roots. Americans with French and French Canadian ancestry make up more than 10% of the population in many New England states, while California and Louisiana each include more than one million Franco-Americans according to the 2010 U.S. Census. As famous writers (Henry David Thoreau, Jack Kerouac, W.E.B. Dubois), artists (Marcel Duchamp, Louise Bourgeois, Jean-Michel Basquiat) and athletes (Joakim Noah, Charlie Manuel, Brett Favre), Americans of French-speaking descent have made important cultural contributions to sports, literature and the arts. 
Of course, France and America share a long history of diplomatic and economic ties dating back to the the American Revolutionary War, when French leaders like the Marquis de Lafayette famously served in the Continental Army. Later, Thomas Jefferson and Benjamin Franklin would support the French Revolution as envoys to France, and Alexis de Toqueville would draft one of the most widely-cited works of political theory: Democracy in America (1835). Throughout the 19th century, Franco-American relations would continue to develop into a long-lasting friendship, with occasional rivalries, but strong mutual respect. The Statue of Liberty, a gift from France intended to represent a universal symbol of freedom and democracy, was dedicated in 1886.
Due to economic and political changes in the late 20th century, there has been a considerable increase in immigration from Africa to the U.S. A significant portion of these newcomers hail from French-speaking West Africa and many are highly-skilled professionals in their respective fields. The greater Philadelphia area has about 140,000 African immigrants from all over the continent, as well as about 60,000 from the Caribbean. Since the 1980s, the Haitian-born population residing in the U.S. more than quadrupled, making it home to the largest population of Haitians abroad in any single country. [Source: http://www.migrationinformation.org/]
Useful links about French in America:
Library of Congress Global Gateway: France in America
Guide to the United States' History of Diplomatic Relations with France
French Canadian Emigration to the United States (1840-1930)
The Brookings Institute: Franco-American Relations after the Election of François Hollande
Contemporary African Immigrants to the United States
HALO: Haitian American Leadership Organization
---
French in the World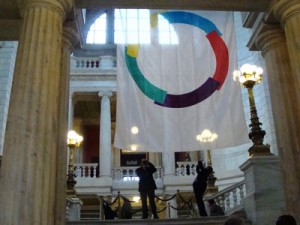 French is a young, vibrant, international language.  It is the only language other than English to be spoken on all five continents. In fact, among its 220 million speakers, more than 96 million live in Africa, yet it also represents the 2nd most widely spoken native language and foreign language in Europe.
Founded in 1970, the International Organization of la Francophonie includes 75 state and government members that represent approximately 15% of the world's population. However, French-speaking areas account for almost 20% of world import and export trade, making it an advantageous language to speak for international business. French is an official language of Canada which is the United States' #1 trading partner: approximately $4.0 billion in goods cross the U.S.-Canada border each day, along with 300,000 people. Quebec alone represents the 13th largest market for U.S. exports.
In the majority of countries that belong to the International Organization of la Francophonie, more than 60% of the population is under 30 years old. All of its members signed the Convention on the Rights of the Child (La déclaration des droits de l'enfant).
As a result of its political and economic strengths, French is not only the 9th most widely spoken language in the world, but also the 3rd most widely used on the Internet (after English and German).  [Sources: http://www.francophonie.org/, http://www.state.gov]
Useful links about French in the World:
RFI: French Language Growing, especially in Africa
AIMS: American Institute for Maghrib Studies
Deepening Ties between France and Latin America
The European Union and Latin America