Ana Laguna, Ph.D. 
Associate Professor,  Associate Editor of the Bulletin of Cervantes, Executive Member for the Cervantes Society of America, Creator and Director of MAT (Masters in Teaching Spanish) Program (2012-17), Co-Convener "Race and the Renaissance" Seminar at Center for Cultural Analysis (Rutgers-New Brunswick) 2017-18.
Ph.D., Purdue University
Early Modern Literature and Culture, Visual Studies, Race Theory, and Material Culture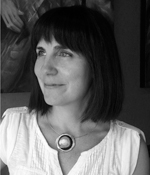 Carla Giaudrone, Ph.D.
Associate Professor
Latin American and Latino Studies Director,
Ph.D., New York University
Fin-de-siècle Spanish American literatures, Southern Cone literature and culture, Latin American Modernismo, Post-colonial theory, Feminist Theory, and Gender Studies
Próspero N. García, Ph.D.
Associate Professor of Spanish Applied Linguistics                             Graduate Program Director (Spanish MAT)
Ph.D., University of Massachusetts, Amherst
Sociocultural Theory and Second Language Learning, Spanish Second Language Acquisition and Pedagogy, Second Language Evaluation and Assessment, Technology Enhanced Language Learning.
Silvia Perez-Cortes, Ph.D.
Assistant Professor of Bilingualism and Second Language Acquisition
Ph.D., Rutgers University, New Brunswick
Heritage and Second Language Acquisition, Spanish-English bilinguals, child and adult language development, Language attrition, Bilingual education, English Language Learners (ELLs).
Judith Downing
Assistant Teaching Professor and Coordinator of Elementary Spanish Program
M.A., University Of Pennsylvania
Dana M. Pilla
Assistant Teaching Professor, Coordinator of Spanish for the Professions
M.A. Rutgers University
Ed.M. Rutgers University